Patrick Miller

Patrick is highly trained and experienced. He is considered a Master Therapist. Not only book smart--receiving a high mark on all sections of the national exam and an A GPA from Heritage College--he offers a truly Awesome Massage. In fact, he was very popular among the clients in high volume chiropractic office. Following his work at the Chiropractic Health Center in Lees Summit, he opened Amazing Hands Massage Therapy where he has proven to still be popular. Some of his regular clients include doctors, massage therapists, and other professionals. He has worked with athletes, dancers, and other performers to prevent injury, reduce healing time, and improve performance. He is proud to have had Riverdance dancers fighting over his services.

He has a firm but relaxing touch, thus massages tend to have a more therapeutic touch rather than just relaxing. He is just as good at relaxation and lighter/softer as well. Patrick is highly skilled and finding and helping to relieve or reduce issues such as knots, trigger points, pain, and stress. Depending on your needs and goals he also works some stretches into the session.

Patrick has also completed a highly specialized program for Prenatal/Pregnancy massage where he has received a prestigious certification in Pregnancy and Labor massage.

Patrick is considered one of New Orleans's Premier Male massage therapists.

Patrick has some great history behind his service. He has volunteered two years at a Therapeutic Riding center, has been a part of the Red Cross Disaster Services Team as a volunteer since 2003, and volunteered 2 years at St. Lukes Hospital before being hired and working 4 years in Patient Services. Patrick has volunteered massage services to the disadvantaged, the Muscle Dystrophy Association, the March of Dimes, and other events & organizations.

Patrick's Business card: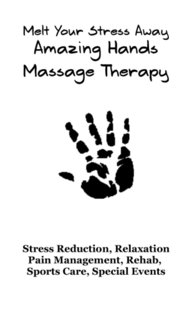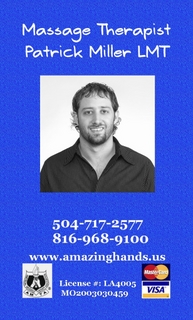 ---
Master Therapist:
a massage therapist who has been licensed for at least 3 Years, has performed at least 40 hours of massage in the last 8 weeks, completed continued training, has not been disciplined by a massage related law or felony in the past year, and is a member of a
massage professional organisation
i.e. AMTA, ABMP, IMA, CMTA
Junior Therapist: a massage therapist who has completed less than 240 Hours of massage since becoming fully licensed
Provisional therapist: a therapist who has completed education as required by state law, has a provisional/temporary license, and is awaiting final license due to some requirement/s. i.e. Taking and passing national certification exam, completing provisional period, or other requirement of law.
Law includes local, state or national law, and additional requirements of any rule making body/board as setup by law.
Massage as used for Master, Junior, Provisional therapists refers to massage that is done in a professional environment for compensation. Professional trades are permitted, but not with friends, or family. Continuing education does not count. Massages must be documented i.e. S.O.A.P. Notes [which is also typically required by law].